International Moving Company to Singapore
It's a new chance to restart what you want with SDC.
Are you moving to Singapore from the USA? SDC International Shipping offers moving services for relocation to Singapore and other Asian countries.
Singapore has been a hot spot for expats over the last few years. We are one of the international movers and have assisted hundreds of expat moves to Singapore. You just tell us where you are planning to settle down in Singapore, and we will complete your international relocation.
Why Moving to Singapore with SDC
We can plan every step of your move. Whether you are going to relocate to Singapore, Alexandra, Changi, or other destinations, we offer professional moving services for household goods and vehicles.
Our pro packers and movers can handle all the important paperwork to ensure the safe and fast import of your belongings within Singapore borders. You will know exactly which documents to submit for shipping household items and vehicles.
We are fully licensed, bonded, and insured movers. We are tasked to make sure that no customs regulations of Singapore are breached.
For international moving insurance, restricted/taxed items, necessary forms and documents, and any other queries, please contact us or request a free quote.
How We Can Help You Move to Singapore from the USA
After you discuss the details of your move with our logistics agents, we will arrange your relocation from start to finish. Our SDC team comprises seasoned and highly skilled movers and packers who offer dependable services in Los Angeles, San Francisco, San Diego, Houston, Dallas, Sacramento, Seattle, etc.
We provide full packing service with specialized materials for overseas shipments, such as shipping boxes, papers, corrugated cardboard sheets, cushioning, crates, and fragile & warning shipping stickers. We also offer temporary storage solutions if you are not ready to move into your new home.
We can tailor the following shipping methods to your requirements and budget.
LCL (Less than Container Load)
FCL (Full Container Load)
Consolidated or shared shipping
When your shipment arrives at the destination, the next step is to settle customs clearance and deliver your belongings.
Customs Info for Moving Households to Singapore
The process and the cost of shipping personal belongings vary. When it comes to customs, most household goods can be brought to the country free of duties and taxes. However, you'll have to qualify for duty-free. In particular, you have to:
Plan to change your residency to Singapore
Have all the items in personal use for at least three months before import
Import your stuff no later than six months after arriving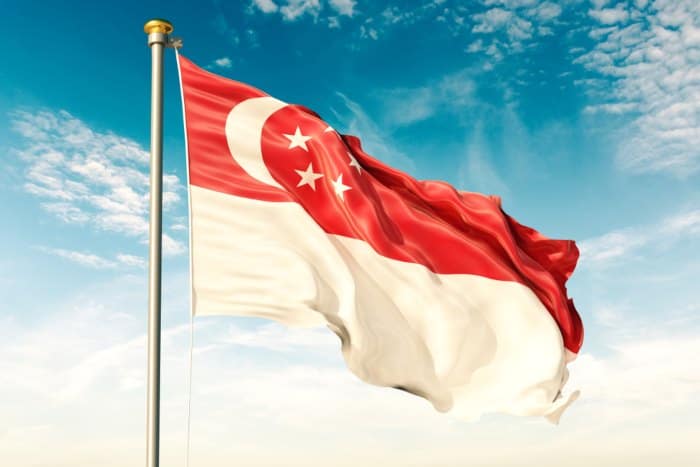 Car Shipping to Singapore from the USA
Shipping a car or vehicle to Singapore is possible but is not advisable. Car import is very expensive due to high duty and registration fees. In addition, left-hand drive vehicles are not allowed, and those that are dismantled and three years older.
However, if you still decide to get your vehicle to Singapore, you'll need the following documents:
Exhaust Emission Control Standard Certificate
Original Bill of Sale
Insurance papers
Vehicle registration certificate
ID document
Inward Declaration Permit
Customs duty payment receipt
Temporary Certificate of Entitlement
Letter from a manufacturer stating the date the auto was manufactured
With our international car shipping service, you can export and import vehicles, such as motorbikes, caravans, and small vans. 
The Cost of Shipping a Car to Singapore
Our overseas car shipping costs are based on vehicle size and the shipping mode you choose. For example: 
RoRo (Roll-On Roll-Off) is the cheapest because your car will be driven on the ocean vessel and secured. When it arrives in Singapore, it will be driven off the ship and wait for you to collect it.
A shared container is also considered a cheap option as your vehicle will be shipped with other cars in a container. It means you will only pay for the place your vehicle occupies in this container.
A solo container is the most costly. A client pays for the entire 20ft or 40ft container for his sole use. The advantage of this method is that you can include some of your household belongings (e.g., clothes or books) in the remaining unoccupied space.
Other SDC Moving Services
Transportation of breakable and high-value items requires proper attention. Our experienced team is trained and experienced to handle moving of:
Pianos (grand pianos, baby grand pianos, and upright pianos)
Bulky safes
Fixtures and fittings
Different artwork objects
Antiques
We have the right people and resources to treat your precious personal effects with care and consideration.
Popular Destinations for Moving to Singapore
Our shipping service covers many cities and towns in Singapore. The most popular destinations for American expats are Singapore, Sentosa, Clarke Quay, and Boat Quay. But we also deliver shipments to Changi, Clementi, Queens Town, Novena, Pasir Ris, etc.


Why Move to Singapore with SDC
We build our reputation on how we do."I made the right decision choosing SDC International. They proved themselves and did their best to make sure my shipment reached its destination without much trouble. Everything arrived within the estimated timeframe. I recommend SDC because they understand the importance of what they are transporting." – Fiona J.