Whether you need to move a baby grand piano, grand piano, or a digital piano overseas, there's a reliable way to do that with SDC International Shipping. We are international piano movers who have extensive experience shipping a piano overseas. 
---
The Types of Piano We Ship
We can move any type of horizontal and vertical pianos. This includes:
Grand piano 
Baby grand piano
Concert grand piano
Ballroom piano 
Spinet and studio pianos 
Digital piano
No matter the size and style of your piano, we'll provide a custom packing and moving solution.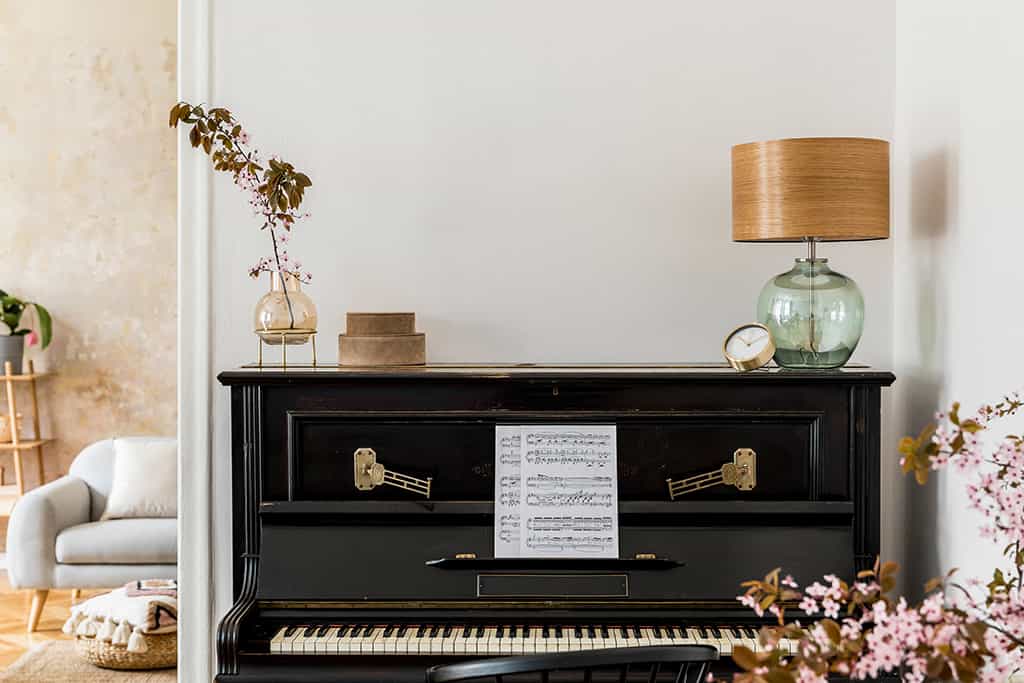 ---
How Do You Ship a Piano?
Shipping a piano overseas is a process that requires experience and skill. Pianos are known for their large sizes and value. For example, an average piano weighs from 500 to 900 lbs. On the other hand, the grand piano may weigh around 1,200 lbs. Besides, they have moving parts (up to 1000!) that are very delicate and easily damaged. 
Overall, the piano is an extensive musical instrument, and it's important that it gets to the final destination safe and sound. Markedly, the piano's value often exceeds its physical dimension because, for musicians, it's about their personality; it is precisely the instrument that inspires them for new melodies. For these reasons, piano shipping should be carried out by professionals. 
As experts in overseas artwork shipping, SDC international piano movers will deliver your musical instrument by sea or air freight. We will arrange the entire process as follows. 
Picking up your piano 
Our crew will come to your place to load the piano on the truck in order to transport it to our warehouse. We'll strap it down to secure it in place to prevent it from shifting during transit. 
Packing and crating
Once in the warehouse, we'll pack your piano and crate it. Wrapped in padding, we'll place the musical instrument on a skid board. After we bolt the skid to a platform with the piano, we will build an additional sealing to the crate. We'll use packing material to ensure no moving while in transit. A closed and labeled crate will be ready for transit to the seaport or airport terminal. 
Organizing customs documentation
We'll prepare appropriate documentation for exporting from the USA and importing to the country of your destination. Please be aware that pianos with ivory keys are banned in many jurisdictions. If this is the case in the country you are relocating to, we'll remove the ivory without damaging the keys before it goes through customs. 
Insuring your piano
Since the piano is an expensive and vulnerable instrument, we recommend purchasing international moving insurance. We offer different insurance options that can cover the total value of the instrument or certain parts of the piano. 
Delivering to your new address
We have a broad international logistics network. So if the client needs a port-to-door delivery, we can organize that. Our dedicated affiliate agents will transport the instrument to the indicated address when your piano arrives at the destination port.
---
How to Ship a Baby Grand Piano 
The procedure of moving a baby ground piano is not different from moving petite grand or medium grand pianos. Our international piano movers know how to move and dismantle fragile items safely. 
More precisely, first, they will lower and protect the top of the piano's lid. Furthermore, they will unscrew the pedals and legs and wrap them in packing material, including the piano's lid and sides. Finally, when every part of your piano is additionally secured and crated, it will be ready for international shipment. 
---
Shipping a Digital Piano Overseas
Shipping a digital piano overseas doesn't always require a shipping company to do the job. For example, if your instrument is not large and a keyboard is not fragile, regular couriers like FedEx or UPS can handle it. However, if your digital piano is heavy and bulky, it's better to take advantage of the freight service.
At SDC International Shipping, we develop the safest ways of shipping household items and artwork. In addition, we have the right techniques and tools to move your valuable piano elsewhere internationally.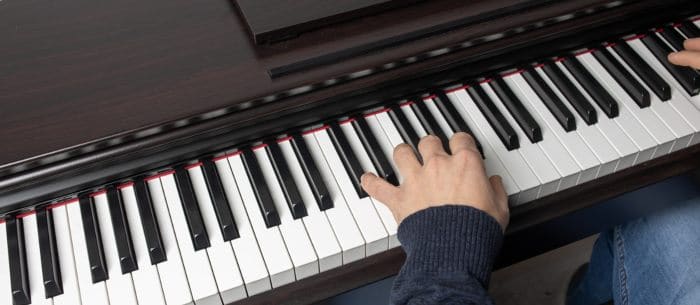 ---
How Much Does It Cost to Ship a Piano? 
The piano shipping cost will vary. This is because the total cost of shipping a piano overseas will depend on many variables. These are: 
The size and style of your piano
The distance of your move
Freight option
Customs fees
Insurance cost
Highly valuable models require additional measures, such as temperature-controlled crating and unique packing materials, moving dollies/pads, and locking belts that affect the piano shipping cost. 
---
Piano Moving Tips 
Although we recommend hiring a professional to move a piano, you still may decide to move it independently. Then you need to know how to move without harming yourself and damaging the precious instrument. So, whether it is because of your budget or other reasons, we want to share this piano-moving advice. Take a look at the following tips below: 
Use thick blankets and towels to cover the piano. 
Bubble wrap internal parts.
Use straps and screwdrivers to fix it on the board.
Have enough people to move it through your house.
To move an upright piano, secure pedals and keys. 
Instead of moving the instrument through stairs, consider using a freight lift.
Use a dolly to move the piano to the truck.   
To move a grand piano, lower and secure the top lid. 
Dissemble pedals and legs (if possible).
Make sure your helpers hold on to the piano to prevent it from hitting when you remove these parts. 
Wrap everything in blankets and secure with tape. 
Put the piano on the board and secure it with traps.
In rainy weather, use a plastic cover.
Strap the piano inside a track. 
---
Ship with International Piano Movers
You can find many tips on moving a piano online. However, we do not recommend doing it on your own, especially if your instrument is expensive and delicate. Instead, let professionals handle this complicated task. 
If you need help with shipping a piano overseas, contact us today. You can provide shipping details and easily estimate the cost by filling out an online quote form.  We are licensed and insured, so you can be assured that your piano will be in excellent hands.