Moving to UAE
SDC International Shipping specializes in the shipments to the United Arab Emirates of household goods and personal effects, commercial goods and automobiles.
International Moving Company to the UAE
The United Arab Emirates (UAE) is one of the most exciting destinations in the Middle East, and it is unsurprising that so many want to move there. As an international moving company to
If you are not already a citizen of the UAE or another one of the other Gulf Cooperation Council (GCC) nations, you are required to obtain an employment visa before you can move to the UAE. They don't have "immigration visas". However, you can request to move to the UAE with a long term residence visa if you meet the visa criteria, which is the ability to invest about $2.5 M in the country. Most of our clients that are moving to the UAE are returning Emiratis, but their petroleum and tourist industry also attracts many people moving there to work for several years.
The relocation to the UAE will be an exciting life changing event for your family. Though there will be some challenges that go along with planning the move, SDC International Shipping will be here to help make your move easy.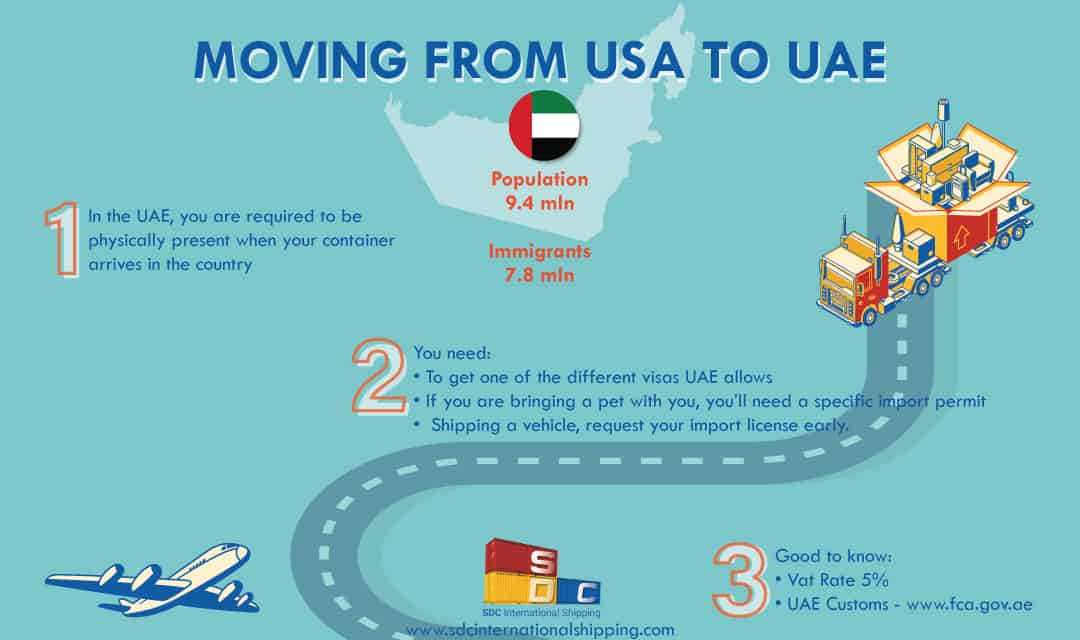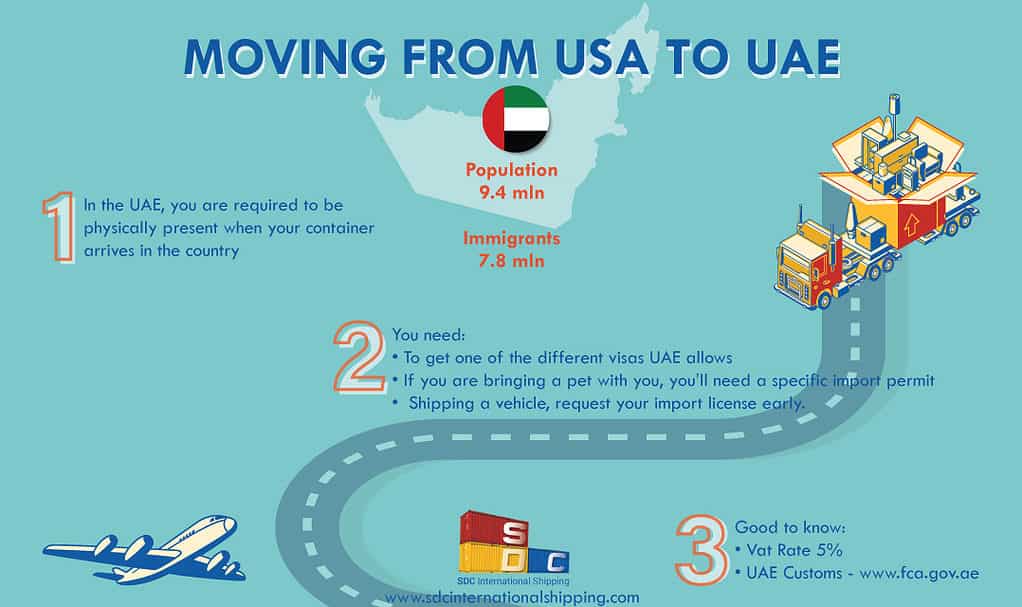 International Household Moving to UAE
The UAE is the business powerhouse of the Middle East, with up and coming industries in addition to the traditional energy sector like the tourism industry in Abu Dhabi and Dubai. More shipment containers go there from the United States than to any other nation in the Middle East or Africa. It is an affluent and exciting nation to work or live in.
As most of our clients to the UAE have lived there previously, they already know what it is a good idea to send and what is unnecessary. Those who haven't lived there have usually visited there many times
Containers entering into the UAE are all subject to inspection. There is a UAE customs form that you will need present, your shipping inventory will be attached to this. SDC International Shipping's movers will prepare this list for you when they pick up your things for shipping. The UAE has not specifically demanded translation of your shipping list to Arabic. However, you must be physically present in UAE when your container arrives and might be asked to attend a portion of customs clearance.
SDC International Shipping offers a packing option with door to door service. When you order this, our movers will do everything for you. All you have to do is be present and ensure that there is sufficient room to park the truck near your house. We will bring new boxes to pack all of your belongings. Included with these are specialized boxes for things such as clothes, dishes, and artwork. For clients sending odd shaped or particularly fragile items, our movers can build custom crates to protect them. This will help ensure that your things arrive in UAE undamaged. Don't forget to let your relocation specialist know about any special items early, so our movers can come prepared. You MUST have to have your shipment packed by us if you choose to purchase damage insurance. Please read our explanation of cargo insurance[av1] .
International Car Shipping to UAE
Many of our Emirati clients choose to send cars bought in the USA back to the UAE. Returning citizens are permitted to bring one automobile per person and one motorcycle each, meaning a family can bring two. However, it is only permissible to place one car in each container. You can send two cars if you want, the most efficient method might be to send two containers.
If you will be sending a motorcycle, the best method to do it will be to crate it and include it in your container.
The UAE does not permit dark tinted glass on automobiles. If the car that you are sending has dark windows, it is probably prudent to change the glass before its shipment. You might be charged a penalty in addition to paying for the new windows there.
Your vehicle's title and licenses needs to be sent to SDC International Shipping early for clearance. We will send these back to you before you leave the country.
We encourage clients to check websites and personally call UAE car dealers to compare prices. From our experience, as many choose Emirati citizens send their American cars, it is worthwhile even though there are no tax considerations for returning citizens. However, as the UAE taxes are only 5% on automobiles, it is still usually better to send yours.
UAE Customs and Regulations
In the UAE, you are required to be physically present when your container arrives in the country. Every container entering the UAE is subject to inspection.
The UAE allows for the duty free import of household goods that were previously used. To qualify for this exemption, goods should be yours for at least six months. However, the UAE charge a rate of 5% tax on the value of newer items. As a result, it is not considered a major impediment for sending the things that you will want or need while living in UAE. If you are sending items that look new, you should still retain your purchase receipts.
Returning Emirati citizens, will need to be able to prove that they have resided abroad.
Please appreciate that business regulations in the UAE are established at both the UAE federal level and at the emirate level. This website contains link to the various emirate web sites. The main UAE embassy website contains more information about sending commercial shipments to UAE.
Moving to UAE Checklist
SDC International Shipping is ready to relocate you and your family to UAE. In the meantime, you will need to prepare many things, including:
If you are a citizen of any GCC country you can enter the UAE without a visa. If you are not, please see this site for information about the different visas available.
If you are bringing a pet with you, you will need to prepare early, including requesting a specific import permit. You are required to microchip and vaccinate your pets. Any pet coming to the country must be at least 27 weeks old. There is a specific form that must be filled in after you have received permission.
If you are shipping a car or motorcycle, request your import license early.
If you have any professional credentials, bring them along. If you aren't a UAE citizen, you have already found employment to get your visa. But if you need to change jobs, you'll need to show records.
The UAE has eradicated most infectious diseases. You are required to have MMR, rotavirus, chicken pox and other vaccinations.
International Shipping Options to the UAE
All our sea shipments to the UAE go through Jebel Ali, one of the world's busiest ports. Shipping times typically take 6-10 weeks for door to door service. If your shipment is due to arrive during the holy month of Ramadan, expect an additional week for customs clearance work. If you require a more rapid delivery, try air cargo. This is more costly, but takes about a week and a half door to door.
While we do have some business of smaller sea shipments to UAE, most of our shipments to the UAE consists of full container loads (FCL) shipments. We can send either 20' containers with 1100 cubic feet of storage space (about the size of a 3 bedroom home) or 40' containers with 2200 cubic feet for cargo.
If your family has opted to send two automobiles, your SDC International Shipping relocation specialist will work with you to find which shipping options will make the most sense, as only one car may be placed in a container.