International Movers to Cyprus
An International Moving Company to Cyprus, choosing SDC International Shipping for your family's relocation to Cyprus will ensure you a successful move.
Please note: all of the information in this document pertains to moving to the Republic of Cyprus. The Turkish Republic of Northern Cyprus is not a nation recognized by the United States. If that is your final destination, please contact us as special arrangements need to be made.

---
What's on this page?
01 | International Household Moving to Cyprus
02 | International Car Shipping to Cyprus
03 | Cypriot Customs and Regulations
04 | Moving to Cyprus Checklist
05 | International Shipping Options
---
Cyprus is a former British colony and current European Union member. For those looking for a nice retirement relocation destination, the island has much to offer: beautiful views, mild winters, easy access to Europe. Though the country's official language is Greek, English is spoken by almost everyone, and street signs appear in both Greek and English. The country also has many British retirees, low taxes, very little crime, and affordable housing, making it an ideal place to enjoy retirement.

The main industries are finance and tourism. If you are moving to Cyprus to work, it will likely be in one of these thriving industries.

Moving to Cyprus will be an exciting life event for your family. SDC International Shipping looks forward to moving you there. We are an international moving company to Cyprus.
---
International Household Moving to Cyprus
We assume that you have made at least one trip to Cyprus before deciding to move there. If not, please do so. You may have vacationed there several times and fell in love with the Mediterranean island, precipitating your decision to move there. However, before you move, you need to review potential locations where you would like to live and have a realtor show you potential homes. Do you need to downsize before you move? Do you need to renew things to send to Cyprus?

As housing is quite affordable in Cyprus, most of our clients opt to purchase spacious homes and send most of their household. American furniture should be brought with you when you move to Cyprus. While you can find furniture on the island, it will be of a lesser quality and might cost more than what you already own. Also, getting furniture there might take some time. Taking all costs into account, sending your existing furniture to your new home will be the most cost-effective.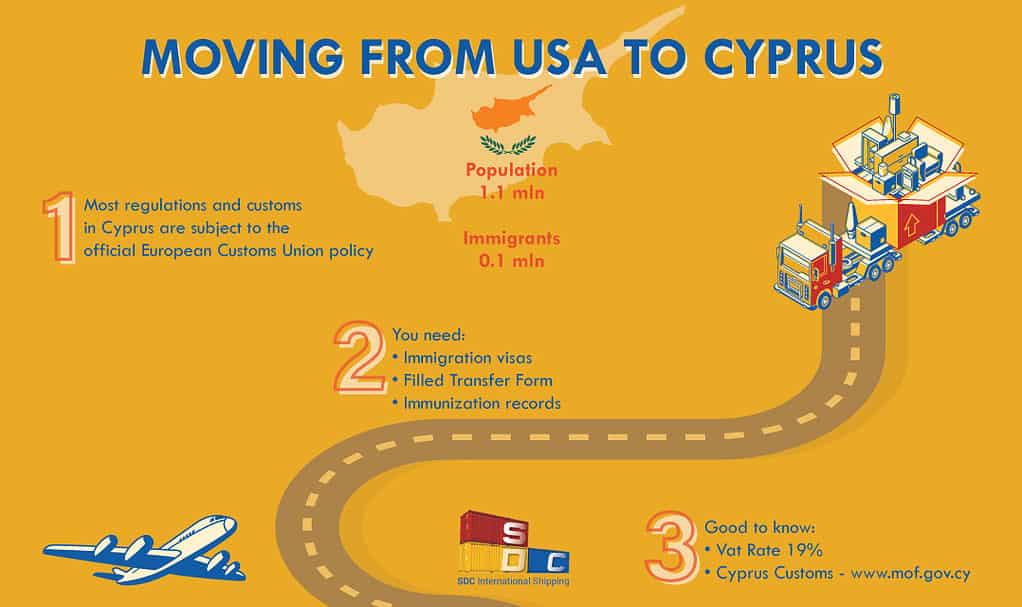 International household moving to Cyprus is done by SDC International Shipping regularly. We know how to move your household items to Cyprus safely. Your belongings will be protected in a manner that will take your space and budget into account. If you will send tables, their stands will be removed. If you send beds, they are also disassembled. Each of these pieces will be individually protected for the ocean voyage. As there are many stages of an international move, your cargo will be handled several times, preparing your furniture will be essential.

We highly recommend taking your beds, as American beds and mattresses are different from "American" mattresses available in Europe. Also, take several spare sets of sheets, as the sizes are slightly different.

You will want to take all of your personal effects with you to Cyprus. As there is a large ex-pat and English speaking community, finding books in Cyprus is reasonable, but you should still consider taking most of your library with you. Quintessential American kitchenware will not be available, so take it with you. If you are sending a container, you should send heavy items like cast iron cookware, as the weight limitation on containers is high, and you won't be sending a vehicle or something to weigh it down.

Cyprus is an island with a great climate. If you love water sports, you will want to bring the necessities with you. If you fish, take all the gear you like, but make sure that it is clean. Equipment for other watersports should also be brought. Also, if there are things that you like, such as throwing around a football or baseball, don't forget to bring along a little bit of spare equipment.

When preparing your international household moving to Cyprus, it is best to let us do the packing for you. Some people prefer to pack themselves, but from our experience, there are many pitfalls when you pack yourself. To start with, you won't be able to insure your shipment against damage. There is also a danger that you won't use approved materials for shipping material. Leave this work to the professionals.

Small appliances with external power adapters usually will work well in Cyprus, as will most electronics. Major appliances will not and should not be marked for shipment.
---
International Car Shipping to Cyprus
Sending an automobile to Cyprus is not advisable. The tax-free benefit of motorized vehicle imports in the country has been abolished. Also, as a former British colony, in Cyprus, they drive on the left, and American cars can't be licensed.
Read more: International Vehicle Shipping from USA
---
Cypriot Customs and Regulations
Most regulations and customs in Cyprus are subject to the official European Customs Union policy. This website provides the current official policies of the Cypriot customs authority. The information here is for background and to help you make decisions. Please consult the official Cypriot government websites for updated information.

Cyprus has several types of long-term visas available. Please see this official Cypriot government site for details.

You will need to fill in a form downloadable here for tax relief, otherwise, you will be charged an estimated VAT on your shipment. The VAT rate in Cyprus is 17%. Our team of movers will prepare for you an inventory of the items you send. You must check this list and make sure that it is accurate, as it will always be the ultimate responsibility of the sender to ensure that the list reflects what you are shipping.

There are few impediments to importing used belongings to Cyprus. You should ensure that what you are shipping is legal and belongs to you. If you do this, importing your goods should not be difficult. This list is also important for your shipment insurance, so it is a good idea to put the time into making an accurate list.

If you are setting up a business in Cyprus or sending a commercial shipment, please obtain an EORI number (Economic Operators Registration and Identification) before shipping. Many of our clients already possess an EORI number from another EU country. If you have already have one, that can be used regardless of the issuing country.
---
Moving to Cyprus Checklist
SDC International Shipping is ready to send your container to Cyprus. You will need to prepare the necessary documents:
Immigration visa. If you are a citizen of any EU country you won't need this. If not, see this official Cypriot government site
If you are not a citizen of an EU nation, fill in this form.
It is a great idea to bring all of your personal records to Cyprus, they don't need to be translated into Greek, English will suffice.
Immunization records. You should get immunized before you move. Please review the information on the CDC recommendations for Cyprus.
Make sure that you can easily transfer money from your bank in the United States to an account in Cyprus. If you don't have a bank account yet, you will need to have good access to your American account. Check what your bank requires for accessing your account while abroad and make sure that you can do this. You might have to get a new virtual telephone number that can receive text messages.
---
International Shipping Options
We can send any size shipment to Cyprus. The limit for duty-free import of used goods is the contents of a 40' container. We can also send 20' containers. Our clients are also able to send smaller loads, starting at 100 cubic feet.

For urgent shipments, use air cargo. There is a good chance that you will want to send both an air shipment and a container. While air cargo is far more expensive, we can usually get door to door in about a week. Larnaca is a port notorious for long customs clearance time at the port, and a container might spend a week from the time the ship arrives until home delivery.