Why Are More Americans Moving to England and the United Kingdom?
Is it true that more Americans are deciding to move to the UK? Yes. What's behind this growing trend?  Many times, relocation to the UK is based upon one's career.  However, many retirees are moving, too.  Reasons of course include such things as having family in the UK, cultural differences/preferences, a different lifestyle, world-class educational institutions, and much more.   Another element that is also a factor that helps in the decision process in terms of moving to the UK from the United States is that there is no need to speak or learn a new language!
The United Kingdom is a top relocation option for many Americans. Most of them prefer to move to the UK because the place caters to the needs of ex-pats. It is also home to some of the world's prestigious universities and colleges, museums, art galleries, and world-renowned sports centers. Also, the place is known for its diverse cuisine and rich history that many ex-pats long to experience.
Presently, the UK has an estimated population of more than 67 million. It has become a home to about 3.9 million expats, with around 200,000 coming from the US. The UK is a temperate region with large cities like London, Glasgow, Edinburgh, Liverpool, Birmingham, and Bristol.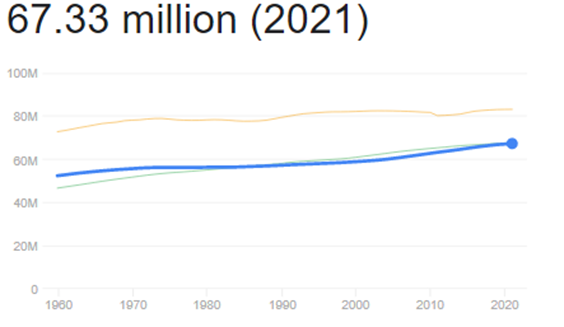 So, how straight forward is it really to pull the trigger to make this happen?  The answer is that is can be very straight forward, provided you have done a little homework, have made the decision and are working with an experienced, reputable and responsive international shipping company.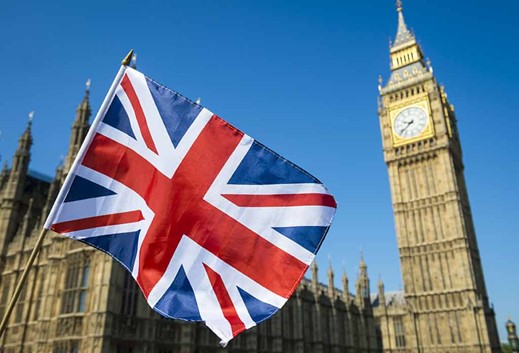 What to Look for in a Quality Moving Company
· Expertise and Experience
This is obvious.  The company you work with should be very experienced and have all the expertise necessary to navigate all the elements that come along with completing a trouble-free shipment from the USA to the UK.  Failure to work with a company that is truly knowledgeable and experienced can result in rather unpleasant, negative outcomes.  SDC has been moving household goods and personal effects to the UK for our clients for over 20 years.
· Dedicated Support Team Working with You from Start to Finish
Shipping household goods and personal effects to the UK from the USA is often confused as being "simple".   If all your T's are crossed, I's dotted and you are working with a very experienced shipping company, it can be.  From door to door, including navigating customs in France, SDC International Shipping guides you every step of the way.   We stay in communication and advise you on the paperwork and documents we need in order to make sure we clear customs at the port of entry in the UK.
· Online Reviews
Online reviews are an important and effective way to better understand the sort of company with whom you are considering working.   It is our advice to only work with companies who have 4+ star ratings.
· Visual Surveys (meet your shipper)-
In order to correctly quote the client in terms of cost, it is critical for any international moving company to thoroughly understand both the volume of items being shipped, as well as any other important considerations. To accomplish this, a virtual or in-person visual survey, conducted by an experienced estimator, is usually necessary.   This step ensures that a quotation is based on all of the client's needs, volume, etc.
Things to Watch Out for When Choosing a Shipping Company to the UK
Broker vs. Proper Moving Company

(

Caution)
Unfortunately, there are companies out there who represent themselves as an actual moving company, perhaps even specializing in moves to the UK.   Is this always the case?  Often it is not.  They may gain your trust and booking, only to hire a 3rd party or parties for the lowest possible cost to them.
Bait and Switch (low-ball)

(

Caution)
Just as it sounds, beware of the very low quote.  We have been doing this for a long time; and we know that too often the low price is ultimately the highest price.   It may be a red flag when a shipping company quickly provides a quote, often a lower quote than others, but didn't actually take time to understand all of the inventory, let alone the client's needs.
Up-Front $ Deposits

(

Caution)
Beware of any company that requires an up-front deposit.  A credit card authorization (as security) if fine; but an actual deposit could be a red flag.  SDC Intl. Shipping does not require up-front deposits, nor do we charge a credit card up-front, for 99+% of our jobs.
Moving to the UK – To Destinations
The United Kingdom is home to some of the most exciting destinations to which many Americans are delighted to relocate. However, the most popular of these are the following.
Birmingham
The second-largest city in the UK
Has historical canals longer than that of Venice
Has a multicultural mix of shopping centers, museums, and canal-side dining
Has plenty of places where ex-pats could settle
Glasgow
The second-largest city in Scotland
Regarded as one of the UK's hippest ex-pat destinations
The city is home to many architectural gems
Has friendly locals
Great place to dine, party, dine and shop
Edinburgh
One of the UK's most beautiful cities
Home to the famous International Festival and the Fringe Festival
Surrounded by elegant Georgian New Town and the atmospheric Old Town
Regarded as Scotland's cultural capital
Manchester
Known as the self-styled north capital
Known for its prestigious football teams, musical heritage, and industrial past
Highly accessible via tram
Has a great mix of old and new structures
The SDC Shipping Process
At SDC, we take extra time to first fully understand our client's needs.  This helps to reduce or even eliminate "surprise" charges and/or other potential troubles.  From there, the process, depending on the desired level of service (e.g., door to door, door to port, port to door, port to port, air freight, etc.) is handled by SDC from your point of origin to your desired destination.  Let's use a typical 3-bedroom home, with full professional packing and inventory service, from door to door, and go through the typical steps:
Visual Survey to get to know each other better, and for SDC to understand the client's needs and inventory. This is also an opportunity to answer any questions the client may have.  ß very important   (Sometimes a visual survey isn't possible.  In this case, it is important for SDC to fully understand your needs.  Sometimes we use pictures or in certain cases, we simply agree on an amount and service.
Proposal– SDC will then provide a professional quotation to complete the shipment, based upon the elements discovered during the visual survey (if done).
Order for Service including the date of pack/pick-up
Internal Support Team- Next, an internal Support Expert for the United Kingdom is assigned.  This person will provide constant guidance, request the proper documents /paperwork that might be required, and stay with you from start through finish.
Packing, Wrapping & Protecting and Pick-Up- Sometimes this (packing and pick-up) is done on the same day.  Sometimes, for larger and more complex jobs, packing and prepping could be 1-3 days prior to the actual pick-up/loading.
Shipping– Once we have completed the pick-up from your origin location, SDC then delivers your shipment to the outbound terminal for shipping.  It is then loaded into the ocean vessel (if ocean shipping) and shipped.
Customs– Unless otherwise requested, SDC Intl. Shipping will clear customs at the destination port of entry.
Deliver– Unless otherwise requested, SDC Intl. Shipping then delivers to your residence or desired delivery location.  All furniture is reassembled (if applicable), unwrapped, and placed where you would like it.  All boxes are delivered to the room or area of your home that you wish.  We then clean up all trash and depart.
What Can't I Ship from the US to the UK with My Household Goods?
Attempting to ship a prohibiting item into the UK can derail your plans, or worse.  Keep in mind that some items are banned outright (e.g., illegal drugs), while others may only be "restricted" and require prior approval for import.   Please consult SDC International Shipping for specific information regarding what can, may, and cannot be shipped as part of your household goods shipment to the UK.
Prohibited or Restricted
Unlicensed drugs
Offensive weapons
Indecent and obscene material featuring children.
Pornographic material
Counterfeit and pirated goods.
Milk products from outside the European Union
Foodstuffs (including spices)
Pet food
Firearms, explosives, and ammunition (restricted item. Must be pre-approved prior to shipping)
Radio transmitters. Usually, a license will be required to allow these items to be imported.
Rough diamonds
Animals, birds, and fish whether dead (e.g. stuffed) or alive.
Parts and articles derived from protected animal species including fur skins, ivory, reptile leather, stony corals, and goods made from any of these.
Any food item consisting either wholly or in part of meat, fish, or dairy products is prohibited and cannot be included in the shipment. Including any food product in a household goods shipment can cause delays and possible extra costs if a Port Health Examination is required
Here is a helpful link for more information- Customs Guide-  UK
Packing and Protecting Your Household Goods
Standard Service (furniture)- SDC International Shipping, by default will wrap and protect all of your furniture items.  This would include items that would not normally be boxed.  For example, desks, sofas, dining tables, credenzas, beds, etc.
Special Enhanced Protection for Delicate and/or Specialty Items- SDC International Shipping will always provide the appropriate level of protection for your different inventory items.  Items such as glass and marble tops, statues, glass china cabinets, etc, will receive the appropriate level of enhanced protection for the shipment.  At SDC, our mandate is to do everything in our power to ensure your items arrive in the same condition in which they left.  We are experts at making this happen.
Packing of Boxes- When it comes to boxes, the client may elect to have SDC International Shipping professionally pack all boxes, or only some of them, and create a professional inventory list.  This is often helpful with customs at the point of entry.   Alternatively, the client may elect to self-pack (or partially self-pack) boxes for the shipment.  In this case, it is important to create an inventory list.  SDC will help with this.
Framed Art- Like boxes, SDC can pack framed wall art for our clients.  Alternatively, the client may choose to pack themselves.  SDC can provide everything from standard wrapping and boxing of art, to acid-free wrapping and soft crating, all the way up to creating full, custom hard crates for art. 
White Glove Service-  If needed, SDC International Shipping's teams of expert packers and un-packers are happy to provide full white-glove service.
Fine Art, Pianos, Billiard Tables Moving Services
Pianos, Billiards, Fine Art, and other specialty/collectible items must be handled properly by an experienced shipping and relocation company.   If you need to Ship a  Musical Instrument or an oil painting or even pool tables or collectible pinball machines, our team has the knowledge, skills, and equipment to accomplish the task.  
Shipping Your Household Goods to the UK by Ocean or by Air Freight
Household shipments to destinations outside North America are usually shipped by ocean freight.   A benefit is that ocean shipping is a more economical mode.  A con however is that the total transit time is longer.  SDC Intl. Shipping is an expert in both shipping by air and shipping by way of ocean vessel.   Often, we will meet our client's needs using a combination of both methods.
Shipping Your Car to the UK
Moving your car from the US to the UK is a breeze for International Shipping. We have a team of expert personnel who know the process well, and can ship your vehicle alone, or with your household goods.
Required Documentation Includes-

Original title
Bill of sale (if applicable)
EIN or Passport
Registration in the UK (so you can drive your vehicle)- There are some basic requirements in order to gain IVA (Individual Vehicle Approval) in the UK. SDC International Shipping's team of specialists are ready to assist and answer your questions.
Shipping Process for Importing Your Motorcycle-  The shipping process includes several stages. Your shipping representative will advise you on the safest way to get your bike to the port during each stage. The process involves the following:
Step 1–  You can either transport your bike yourself or take advantage of our transport service.  
Step 2– Once your bike is on the ship and the sea, you will get a bill of lading and an approximate time of arrival. 
Step 3– The bike import process in the EU will start after the ship arrives at the port. 
Step 4- You will be notified when the bike enters the country, and the customs clearance process is completed. 
Step 5– You can either pick up the bike yourself from our warehouse in the UK or have us deliver it to your home.
Pet Relocations
When moving abroad, taking your furry friend with you is a realistic option. We employ a team of pet experts who take charge of making your pets feel comfortable and safe during transport. We also use planes to bring them to their destination fast and stress-free. Make sure to speak with one of our logistics agents about this. There are specific criteria and requirements to import your pet to the UK, including ensuring all forms, health certificates, and vaccination records are submitted before boarding.  Pet Relocation Services
Maritime Insurance
SDC International Shipping offers both Total Loss as well as Full Coverage insurance options.  Please contact SDC International Shipping for details.
Transfer of Residency (TOR)-
The transfer of residence scheme was introduced to help individuals to move to the United Kingdom without having to pay VAT or Duties on their possessions. If you have lived outside of the European Union and would like to make the UK your new primary place of residence then you might qualify for the scheme.
You must have lived outside of the EU for 12 months and owned what you are planning to bring with you for 6 months. If you are planning on bringing your vehicle then it will fall under the TOR relief so long as you have owned it for over 6 months.
The only caveat to the transfer of residence scheme is that you can't sell anything that you 'import' for a period of 12 months after they arrive in the United Kingdom.
UK Application Guidance for ToR1
VAT and Duties
Provided your paperwork and visa status is in order, and your are shipping only your used (key word) household goods and personal effects to the UK (some exceptions listed below),  typically these items will be exempt from import duties and VAT.  There are additional requirements; but your SDC International Shipping logistics specialist can provide additional clarity on this topic.
Healthcare
The UK's healthcare system is one of the best in the world.  It is called the National Health System and is provided to all permanent residents and citizens.  It is funded by general taxation.
Banking
Getting a bank account in the UK is easy.  All you need to do is prove identity and proof of residency.
Visas and Other Legal Items
Permanently relocating to the UK is known as Indefinite Leave to Remain.
Indefinite Leave to Remain
Settling in the UK
Skilled Worker Visa