Cost of Living in Hawaii 2022
What is the first thing you want to know about the cost of living in Hawaii? Whether you are moving to Hawaii from the USA, you'd want to make sure that the annual wage is enough to pay rent and enjoy life.
If we believe Payscale, the median salary in Honolulu ranges from $60,000 to $66,000. However, among US states, it has the highest tax rate. The Bureau of Labor Statistics reports that the average salary per the third quarter of 2021 was $994 weekly, making $51,688 annually. In another data derived from Indeed.com, the median wage of an Administrative Specialist has reached almost $4,359 per month, and for an Accountant, $4,675. And the highest salaries are on the island of Oahu.
---
Renting in Hawaii
Renting in Hawaii is much more pricey than in most states throughout the USA. A studio flat can be between $1000 to $1,500 per month without utilities depending on the location. A one-bedroom apartment can fluctuate between $1,600 to $2,000, and the monthly rent for a three-bedroom apartment will start at $2,500.
The cost of living in Hawaii is cheaper if you choose to live on other islands. For example, the lowest housing prices are on the Big Island. This is also true for other expenses. Similarly, Kauai also doesn't have a high cost of living. Besides, it's considered one of the best places to live with families – it has the biggest under-18 population by percentage.
Be ready to fork out at least $900,000 to buy a single-family home and around $500,000 for a condo. Although prices are high, buying real estate in Oahu still remains popular.
---
Energy Bills In Hawaii
According to Finder.com, Hawaii was among the five states with the highest energy bills in 2021. The average annual energy bill is around $3,856. The monthly cost of electricity is $168 and natural gas $152.Yet, Hawaii has plenty of sunny days, so nationally it leads in the percentage of solar panels to generate electricity. In fact, it is the first state in the USA that set a deadline to utilize 100% of renewable energy by 2045.
---
Transportation in Hawaii
Living outside Honolulu is cheaper, but if you work in downtown Honolulu, the cost of maintenance and driving your vehicle will factor into the total cost of living in Hawaii. The average gas price as of the end of January 2022 is $4.34 and $4.53 for mid-grade gas.
Commuting is always cheaper. A non-transfer bus ride is $2.75 for adults. But if you are planning to ride a few buses a day, you'll pay $5.50 or $70 per month for the HOLO transfer pass.
An important thing to consider is renting a parking spot if your office is in Waikiki or Honolulu. Parking varies between $100 to $200. Also, you may have to pay for a parking stall if you live in a condo. The prices would be similar.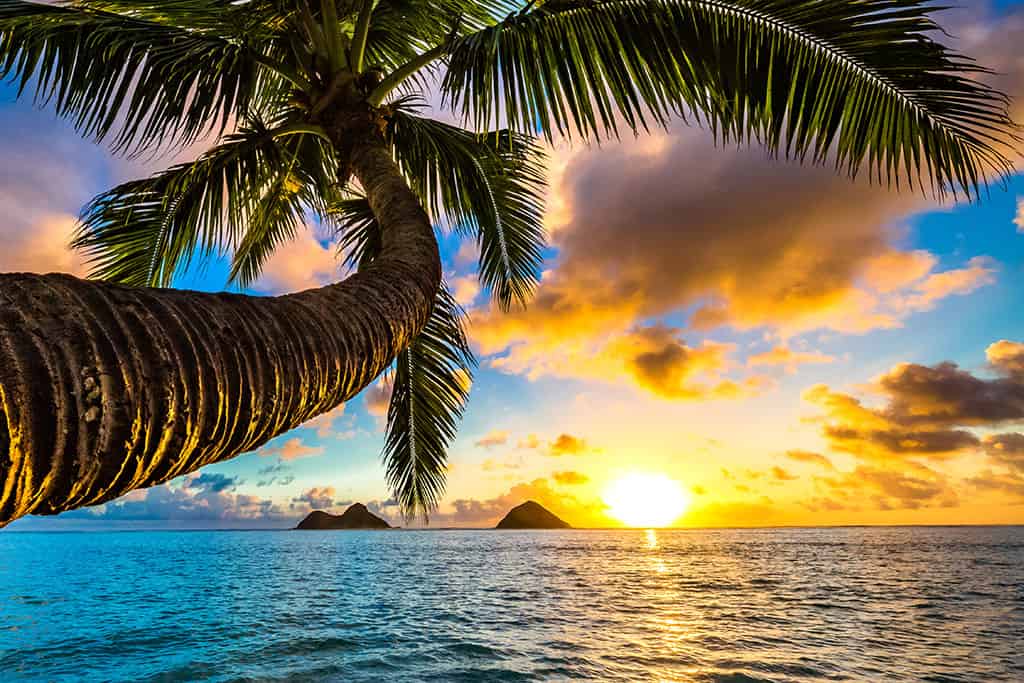 ---
Buying Groceries and Dining Out
When it comes to groceries and dining out, average prices are higher than in the United States. This can be explained by the fact that many goods and food products are shipped to the Aloha State from the mainland, affecting the overall cost of groceries.
A gallon of milk ranges between $6 to $9. Regular veggies per pound come at around $4. A loaf of fresh bread of 500g is $4.80, 12 eggs – $4.20, 1 kg of local cheese – $16, and water – $2.20. The average cost of a bottle of wine is almost the same as in the US – $15. Cigarettes are more expensive in Hawaii –about $10 vs. $6.28 in the USA.
Here are prices if you are eating and drinking out (2022):
Meal in a cheap restaurant – $17
A three-course meal for 2 persons in a mid-range restaurant – $83
McDonalds McMeal menu – $9.80
Regular cappuccino – $5.20
Espresso – $3.10
Cheeseburger – $3.00
Local beer (0.5 liters) – 6.70
---
Cost of Living in Hawaii: Taxes and Health
When it comes to property taxes, Hawaii boasts the most favorable conditions. For example, property tax is 0.28 percent, which is the lowest.
You might find it very appealing that retiree benefits and public pensions are tax-free. However, it doesn't apply to private retirement savings.
As for health coverage, Hawaiians pay the lowest cost. Commonwealth Fund reveals this data. The two primary healthcare providers are Kaiser Foundation Health Plan Inc. and the Hawaii Medical Service Association (HMSA). Aloha State Americans pay only 8% of their average salary, while mainland Americans' payouts are 12%.
Besides, in 2019, Hawaii was the third healthiest state to live in.
---
Are There Ways to Stay on Budget?
If you want to save on living costs, the best advice is to choose a smaller town that is not as busy as Honolulu downtown. For example, costs in Hilo are much lower – 33% than the national average. Therefore, you will easily find an affordable apartment there. Another cheap place is Kaunakakai; the cost of living is 11% lower than the USA average. You can also consider Kailua, Waimea, and Waianae.
Overall expenses can be significantly reduced if you drive an electric vehicle and join the solar panels' program to save big on electricity. However, the exact amount you need to live in Hawaii will depend on many additional costs as well.
---
Are You Moving to Hawaii?
Although the cost of living in Hawaii is higher than in other US states, it pays off handsomely due to beautiful nature, beaches, landscapes, and diversity perfect for different lifestyles. If you are planning on relocating to Hawaii, contact our shipping company.
SDC International Shipping can help you move your household goods.