At SDC International Shipping, we understand the excitement and challenges that come with moving to a new country. International relocations require meticulous planning, reliable support, and exceptional expertise. As a leading provider of international moving services, we are dedicated to helping you make your global relocation a seamless and stress-free experience.
Comprehensive International Moving Solutions
Personalized Consultation and Planning
We believe that every relocation is unique. That's why we start our international moving services with a personalized consultation to understand your specific requirements, preferences, and concerns. Our team of experienced relocation specialists will conduct a comprehensive assessment, allowing us to create a tailored plan that addresses every aspect of your international move.
Professional Packing and Handling
At SDC International Shipping, we understand the importance of proper packing and handling when it comes to international relocations. We take pride in our meticulous approach and employ highly trained professionals who specialize in ensuring the safety and security of your belongings throughout the entire moving process.
Comprehensive Assessment and Customized Packing Solutions
Our team begins by conducting a comprehensive assessment of your items to determine the best packing strategy. We take into account the fragility, size, and nature of each item to provide customized packing solutions that meet your unique requirements. Whether it's delicate artwork, valuable antiques, or cherished family heirlooms, we treat your possessions with the utmost care and attention they deserve.
High-Quality Packing Materials and Techniques
We utilize top-quality packing materials to protect your belongings from any potential damage during transit.
We use sturdy cardboard boxes and cushioning materials to ensure proper protection.
We offer specialized crates and custom packaging for added security.
Our packing experts are skilled in various techniques, including double-boxing, foam padding, and wrapping.
Our goal is to provide maximum protection and minimize the risk of breakage or scratches.
Expert Handling and Loading
With years of experience in the industry, our highly trained professionals possess the expertise to handle items of all sizes, shapes, and complexities. They are skilled in navigating narrow hallways, staircases, and doorways, ensuring that your belongings are safely transported from your current location to the shipping container or truck. We pay meticulous attention to weight distribution, maximizing space utilization while maintaining the structural integrity of your goods.
Inventory Management and Documentation
To ensure a smooth transition, we employ robust inventory management systems. Each item is carefully documented, labeled, and tracked to provide accurate records throughout the entire moving process. This meticulous approach allows us to maintain transparency and accountability, giving you peace of mind knowing that your belongings are in capable hands.
Specialized Handling for Fragile and High-Value Items
We understand the sentimental and monetary value associated with fragile and high-value items. Our team takes extra precautions to safeguard these belongings during transit. For delicate glassware, fine china, or sensitive electronics, we employ additional protective measures, such as custom crating, foam padding, and shock-absorbing materials. These specialized techniques ensure that your valuable possessions arrive at your new destination intact and in pristine condition.
Unpacking and Assembly Services
Upon arrival at your new destination, our team can provide unpacking and assembly services, ensuring a smooth transition into your new home. We carefully unpack your belongings, disposing of any packing materials, and assemble furniture or other items as per your instructions. This attention to detail allows you to settle into your new space quickly and effortlessly.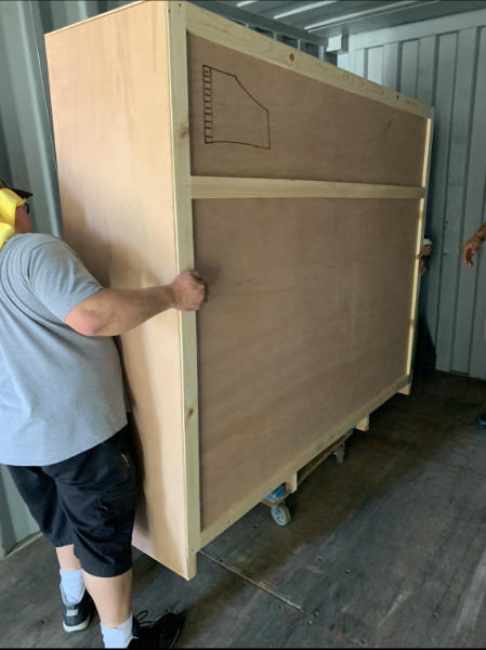 At SDC International Shipping, we prioritize the safety and security of your belongings. Our professional packing and handling services go beyond industry standards to provide you with peace of mind throughout your international move. Trust us to handle your precious possessions with the care, expertise, and attention they deserve.
Secure Transportation and Logistics
Transporting your belongings across borders requires meticulous coordination and adherence to international regulations. At SDC International Shipping, we have built a vast network of trusted partners and carriers worldwide, enabling us to provide efficient and reliable transportation solutions. Whether by land, sea, or air, we ensure that your goods are handled with the utmost care and delivered to your new home in a timely manner. Rest assured, we take care of all the logistics, allowing you to focus on settling into your new environment.
Customs and Documentation Assistance
Navigating customs procedures and documentation requirements can be complex when relocating to a new country. Our team of experts is well-versed in international customs regulations and will guide you through the entire process. From preparing the necessary documentation to coordinating with customs officials, we streamline the customs clearance process to minimize any potential delays or complications.
Secure Storage Solutions
If you require temporary storage for your belongings during your international move, we offer secure and flexible storage options. Our state-of-the-art facilities are equipped with advanced security systems to ensure the safety of your possessions. Whether you need short-term or long-term storage, we can accommodate your specific needs, providing you with peace of mind throughout the relocation process.
Why Choose SDC International Shipping for Your International Move?
Unparalleled Expertise
With years of experience in the international moving industry, SDC International Shipping has established itself as a trusted leader. Our team of professionals possesses extensive knowledge and expertise in handling all aspects of global relocations. We stay up to date with the latest industry trends and regulations to ensure a smooth and efficient moving process.
Commitment to Customer Satisfaction
At SDC International Shipping, your satisfaction is our top priority. We strive to provide a seamless and enjoyable relocation experience for every client. From the moment you reach out to us, our friendly and responsive team will be there to assist you every step of the way. We value open communication and transparency. Our goal is to exceed your expectations.
Global Network
Our extensive network of partners and affiliates around the world enables us to offer comprehensive international moving services to virtually any destination. Whether you are moving to a bustling metropolis or a remote corner of the globe, we have the resources and connections to ensure a smooth transition.
Conclusion
When it comes to international moving services, SDC International Shipping stands out as a reliable and trusted partner. Our commitment to excellence, attention to detail, and personalized approach make us the ideal choice for your global relocation needs. With SDC International Shipping, you can expect a seamless and stress-free international move, backed by our expertise and dedication to customer satisfaction.
To summarize, SDC International Shipping offers comprehensive international moving solutions tailored to your specific needs. From personalized consultation and planning to professional packing, secure transportation, customs assistance, and storage options, we handle every aspect of your global relocation with precision and care. With our unparalleled expertise, commitment to customer satisfaction, and global network, we are well-equipped to make your international move a success.
Choose SDC International Shipping as your trusted partner for your international moving needs. Contact us today to discuss your requirements and let us help you embark on a smooth and worry-free journey to your new destination.