Moving and Shipping Your Household to Ireland
Is it true that more Americans are choosing to call Ireland home? Absolutely! With tens of thousands of expats already residing on the Emerald Isle, the trend is clear.
What's behind the rise in popularity? There are several factors that are driving this trend, including:
• Family or ancestral ties
• Stunning scenery and breathtaking landscapes
• A well-organized and clean environment
• Low crime rates
• Vibrant international cities
• A paradise for outdoor enthusiasts and adventurers
• A world-class healthcare system
• A top-notch educational system
• No need to learn a new language!
But how straightforward is it to make the move? The answer is, it can be very straightforward, as long as you have done your homework, made a clear decision, and are working with an experienced, reputable, and responsive international shipping company. SDC International Shipping is one such company that will support you every step of the way, from start to finish.
So, if you're considering a move to Ireland, know that it can be a relatively simple process. With the right partner by your side, you can be living your dream life on the Emerald Isle in no time!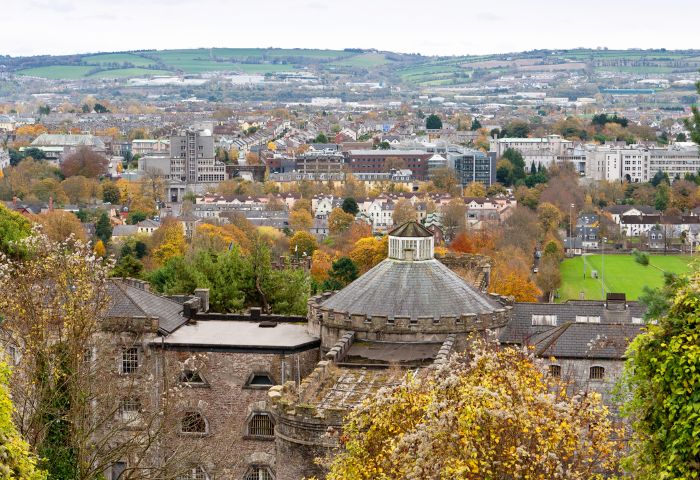 What to Look for in a Top-Tier Door to Door International Moving Company to Ireland
When choosing an international shipping company to move your household goods and personal effects to Ireland, there are several key factors to consider. Let's take a closer look:
Expertise and Experience
It is important to work with a company that has the knowledge and experience to handle the complexities of a shipment from the USA to Ireland. SDC International Shipping has been in the business for over 20 years and has the expertise to make your move a smooth and hassle-free experience.
Dedicated Support Team
Shipping household goods to Ireland can be a complex process, but with the right support team, it can be manageable. SDC has a dedicated team that will work with you from start to finish, guiding you through every step of the process and making sure your shipment clears customs in Ireland.
Superior Online Reviews
Online reviews are a valuable tool to help you understand the quality of a company. Look for a company with 4+ star ratings and positive customer feedback.
Visual Survey / Question and Answer Meeting
A thorough visual survey, either virtual or in-person, is critical to accurately estimate the volume of items being shipped and to understand the client's specific needs. SDC offers this service to ensure that the quotation is based on a clear understanding of the client's requirements.
Choosing the right international shipping company can make all the difference in ensuring a stress-free move to Ireland. With SDC International Shipping, you can be confident that your household goods and personal effects will be handled with care and expertise every step of the way.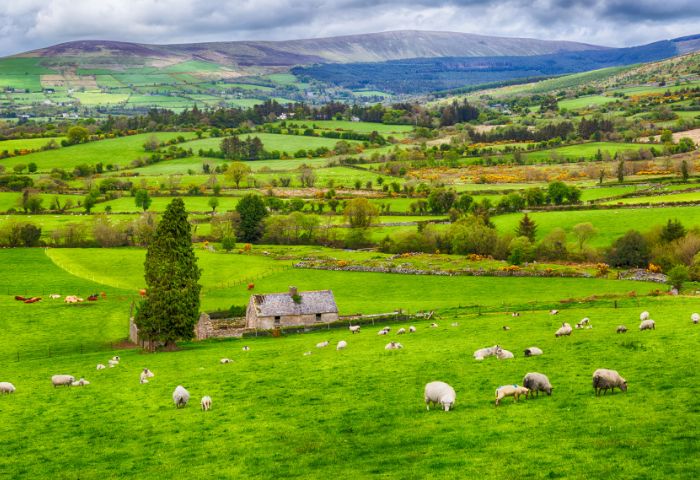 Things to Watch Out for When Choosing an International Shipping Company
Are You Working with a Genuine International Shipper? –
Caution
Unfortunately, there are companies out there who represent themselves as an actual moving company, perhaps even specializing in moves to Ireland.   Is this always the case?  Often it is not.  They (the broker posing as a moving company) may gain your trust and booking, only to hire a 3rd party/s for the lowest possible cost to them.    Avoid the broker posing as a true international moving company.
Bait and Switch (low-ball) –
Caution
This is just as it sounds.  Beware of the very low quote. Have you ever seen a new car advertised as "starting as low as…"?   Does that mean the steering wheel, transmission, and tires will cost extra?  Kidding aside, the "bait and switch" or "low-ball quote" is a real thing; and you should understand it.  SDC has been at this for a long time, and we know that too often the lowest quoted price may ultimately end up as the costliest.   It may be a red flag when a shipping company quickly provides a quote, often a lower quote than others, but didn't take time to understand all the inventory, let alone the client's needs.   Those "surprise" costs add up!
At SDC we strive to thoroughly understand all your needs and expectations.  From there, we provide a clear, professional quotation that is as low as our many years of experience, shipping relationships, and efficiencies allow.
Up-Front $ Deposits –
Caution
Beware of any company that requires an up-front deposit.  A credit card authorization (as security) is fine, but an actual deposit could be a red flag.  SDC Intl. Shipping does not require up-front deposits, nor do we charge a credit card up-front, for 99+% of our jobs.
Consistently Poor Online Reviews –
Caution 
Just as you should look for an international moving and shipping company that has outstanding online reviews, the opposite is obviously just as important.   Look to yelp and Google to understand what others have to say about the international shipping company that you are considering.
Lack of a Professional, Comprehensive Quote Caution
SDC will provide a comprehensive, professional proposal for your shipment to Ireland.  This will spell out precisely what service is being quoted (e.g., door to door, door to port, port to port, etc.).  Further, all elements which are included, as well as any which are not included, will be clearly stated.   Be very cautious of any outfit that does not provide such a proposal!
Top Destinations in Ireland for Expats
Every country has cities with a large expat population. When it comes to Ireland, major destinations are:
Carlow
Cavan
Clare
Cork
County Cork
Donegal
Dublin
Fingal
Galway
Kerry
Kildare
Kilkenny
Leitrim
Limerick
Longford
Louth
Monaghan
Roscommon
Sligo
Tipperary
Waterford
Westmeath
Wexford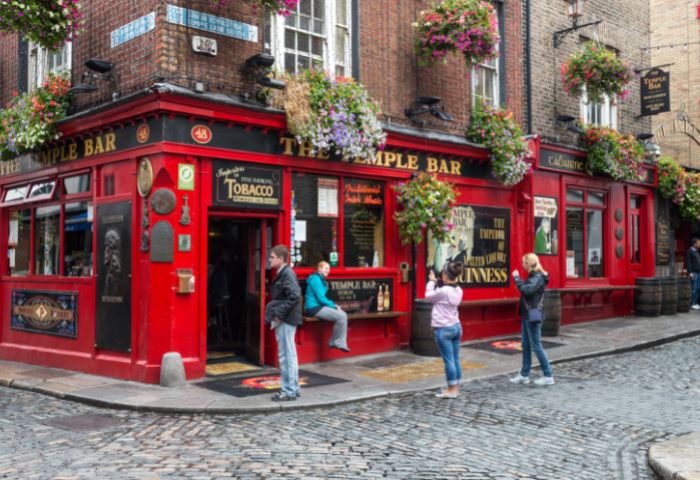 The SDC Shipping Process to Ireland
SDC International Shipping is your best choice when it comes to selecting international movers to Ireland. We take extra time to first fully understand our client's needs.  This helps to reduce or even eliminate "surprise" charges and/or other potential troubles.  From there, the process, depending on the desired level of service (e.g., door to door, door to port, port to door, port to port, air freight, etc.) is handled by SDC Intl. Shipping.  That is from your point of origin all the way to your desired destination. As an example, let's consider a full household move, using ocean shipping, from door to door, including full professional packing, wrapping, and protecting of all household goods.
First, it is a great idea to conduct the Visual Survey in order to get to know each other better, and for SDC to understand the client's needs and inventory. This is also an opportunity to answer any questions the client may have.  ß Very important   Sometimes a visual survey isn't possible.  In that case, it is still important for SDC to understand your needs.  Sometimes we use pictures; or in certain cases, we agree on an amount and service.  That said, for most shipments of household goods from door to door, a visual survey is an important part of the process.
After the survey is complete and analyzed professionally, SDC Intl. Shipping will then provide a Professional Quotation. This quote will clearly explain all elements of the move that are included as well as those which are not or may not be.
If everything looks good, the next step would be for your SDC Intl. Shipping Relocation Specialist to provide you with an Order for Service. This is the actionable booking document that initiates the shipping process. The order for service will clearly spell out not only the price but also all details, including what is included, what is not, etc.
Internal Support and Logistics Team gets involved- Once your job is booked, an internal Support Expert for Ireland is assigned. This Specialist will provide constant communication, and guidance, request the proper documents /paperwork that might be required, and stay with you from start through finish.
Packing, Wrapping & Protecting, and Pick-Up- Sometimes this (packing and pick-up) is done on the same day.  Sometimes, for larger and more complex jobs, professional packing (if part of your requested service), wrapping, protecting, and prepping could be 1-3 days before the actual pick-up/loading.
Shipping– The next step is to ship your household inventory.
Customs– Unless otherwise requested, SDC Intl. Shipping will clear customs at the destination port of entry. Long before this point, your SDC Intl. Shipping Specialist will have taken care of all of the necessary paperwork.  This way, clearing customs at the destination port of entry should go smoothly.
Final Delivery– Unless otherwise requested, SDC Intl. Shipping then delivers your household goods to your destination residence or desired delivery location. All furniture is reassembled (if applicable), unwrapped, and placed where you would like it.  All boxes are delivered to the room or area of your home that you wish.  We then clean up all trash and depart.
Necessary Documents
SDC International Shipping's Logistics and Support Team works with you and helps with the documents necessary to ship your household goods, clear customs, and deliver to your residence in Ireland.
Transfer of Residence form
The most detailed document you'll need to fill in for customs clearance here in Ireland is the Transfer of Residence form 1076 (full name: Form C&E 1076 – Transfer of Residence from outside the EU – Application and Declaration for Exemption from Import Charges and Vehicle Registration Tax). In it, you'll need to provide:
Personal details
Property information (i.e. about your shipment)
Details about any vehicle you're importing (if applicable)
A signed declaration of transfer of residence, including a statement that your property was in your possession and was used by you at your place of previous normal residence outside Ireland for a minimum period of at least six months prior to taking up residence in Ireland.
A detailed description of the goods you are importing, and their value. Talk with the logistics agent about the level of detail required here. I kept the description at a very high level, and that worked for me, but this may change on a case-by-case basis.
Transfer of Residence-  Tax Relief
What Can't I Ship from the US to Ireland with My Household Goods?
Attempting to ship a prohibiting item into Ireland can derail your plans, or worse.  Keep in mind that some items are banned outright (e.g., illegal drugs), while others may only be "restricted" and require prior approval for import.   Please consult SDC International Shipping for specific information regarding what can, may, and cannot be shipped as part of your household goods shipment to Ireland.
http://www.revenue.ie/en/customs/leaflets/pn1875.html
Restricted or Prohibited Items
Food, specifically meat or meat products, milk, and other dairy products.
Plant products such as flowers, fruits, vegetables, and other plants.
Protected wild animals or plant species.
Certain species of fauna and flora protected by the CITES convention (Convention on International Trade in Endangered Species of Wild Fauna and Flora) require a permit. This includes items such as ivory, tortoise shells, certain hunting trophies, and birds in the parrot family, among others.
Firearms
Beer, wine, and Spirits-  limits apply to avoid duty
Tobacco-  limits apply to avoid duty
Packing and Protecting Your Household Goods
Standard Service (protecting your larger items/furniture)- SDC International Shipping, by default will wrap and protect all of your furniture items.  This would include items that would not normally be boxed.  For example, desks, sofas, dining tables, credenzas, beds, etc.  All furniture items will be protected in a manner necessary to ensure transit from door to door, with complete protection.
Special Enhanced Protection for Delicate and/or Specialty Items- SDC International Shipping will always provide the appropriate level of protection for your different inventory items. Items such as glass and marble tops, statues, glass china cabinets, etc, will receive the appropriate level of enhanced protection for the shipment.  At SDC, our mandate is to do everything in our power to ensure your items arrive in the exact same condition in which they left.  We are experts at making this happen.
Packing of Boxes– There are basically 3 options when it comes to packing your boxes.
Full Professional Packing Service by SDC- When it comes to boxes, the client may elect to have SDC International Shipping professionally pack all boxes, or only some of them, and create a professional inventory list. This is often helpful with customs at the port of entry in Ireland.
Self-Pack- Alternatively, the client may elect to self-pack (or partially self-pack) boxes for the shipment. In this case, it is important to create an inventory list.  SDC Intl. Shipping will help.
Hybrid- This is an option when the client would like to self-pack most of their boxes but leave some delicate items to be packed by the agent (SDC Intl. Shipping). For Example- the client will pack most boxes but would like SDC to pack the framed wall art, TVs and fine china.  This is a common arrangement.
Framed Art- SDC can pack framed wall art for our clients. Alternatively, the client may choose to pack themselves.  SDC can provide everything from standard wrapping and boxing of art, up to acid-free wrapping and soft crating, all the way up to creating full, custom hard crates for your fine art.
White Glove Service-  If needed, SDC International Shipping's teams of expert packers and un-packers are happy to provide full white-glove service.
FAQ-   This question comes up all of the time.   Can I pack my personal effects inside drawers (dress/chest of drawers) or other furniture items with storage space?   The answer here is no.  Do not attempt to use your furniture as storage containers.  This may get noticed at the port of entry by customs.  That could cause a delay and the inspection of all items.  Do not pack items inside the furniture.
Art, Pianos, Billiard Tables, Sculptures
When shipping your Piano, Billiard Table, Fine Art, and other specialty/collectible items, they must be handled properly by an experienced, knowledgeable, and capable shipping and relocation company.   If you need to ship a musical instrument, oil painting, a pool table, collectible pinball machines, or any other high-value specialty item, our team has the knowledge, experience, skills, and equipment to handle any specialty shipment, door-to-door.
Shipping Your Household Goods to Ireland by Ocean or by Air
Household shipments to destinations outside North America are usually shipped by ocean freight.   A benefit is that ocean shipping is a more economical mode.  The downside however is that the total transit time is longer.  SDC Intl. Shipping is an expert in both shipping by air and shipping by way of the ocean.   Often, a combination of both may be utilized.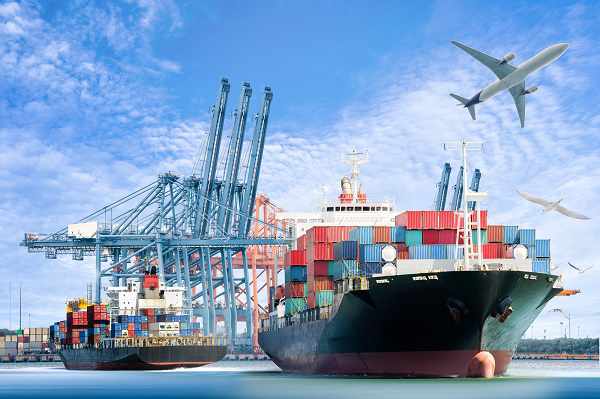 Shipping Your Car to Ireland
Moving your car from the US to Ireland is a breeze for International Shipping. We have a team of expert personnel who know the process well and can ship your vehicle as part of your household goods shipment to Ireland.  Vehicles are sometimes shipped by themselves without a container.  This is known as Roll On, Roll Off (RoRo).   No matter your need; SDC International Shipping has a solution for shipping your vehicle to Ireland.   Important note- Left-hand drive (LHD) vehicles can be shipped to and registered for road operation in Ireland.
Required Documentation Includes-

Original title
Bill of sale (if applicable)
EIN or Passport
Shipping Your Motorcycle
Can you ship your motorcycle to Ireland as part of your household goods shipment?  Yes, you can!  The ownership documents required are similar to those for your automobile.  Please consult with an SDC Intl. Shipping Relocation Specialist for full details.
Pet Relocations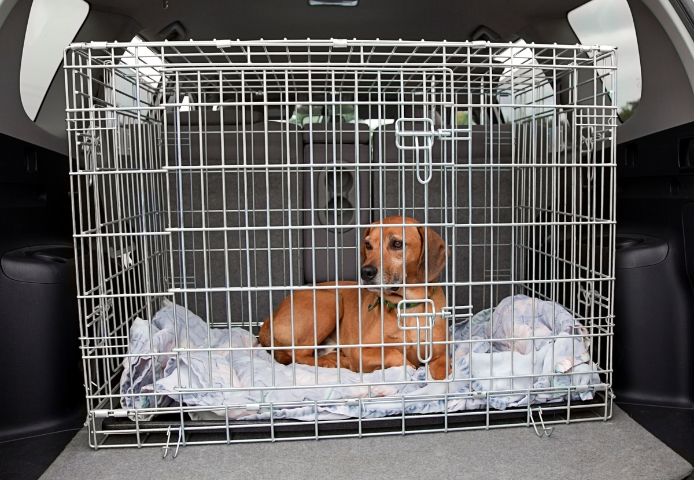 Can I bring my pet when moving to Ireland?   Yes, you can!    When moving abroad, taking your furry friend with you is a realistic option. We employ a team of pet experts who take charge of making your pets feel comfortable and safe during transport. We also use planes to bring them to their destination fast and stress-free. Make sure to speak with one of our logistics agents about this. There are specific criteria and requirements to import your pet to Ireland, including ensuring all forms, health certificates, and vaccination records are submitted before boarding.  Moving to Ireland with pets is reasonably simple. There are not many vaccinations required.  Proof of rabies vaccination is required in all cases.
Important Note-   Your pet must be at least 3 months of age to enter Ireland.  This is because animals under the age of 90 days are not able to be vaccinated against rabies.
Maritime Insurance
SDC International Shipping offers both Total Loss as well as Full Coverage insurance options which cover your possessions from door to door.  Please contact SDC International Shipping at 888-779-3962 for details.

Healthcare in Ireland for Expats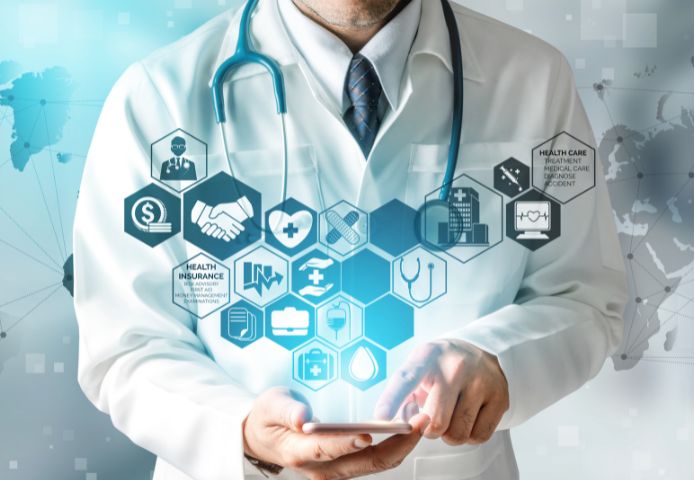 Ireland has a two-tier health system. That means that permanent residents can choose to use government-funded public healthcare or to pay extra for private healthcare which operates independently of the state. Many expats are eligible for public healthcare, but it's important to review all the options before making a decision.
The public healthcare system in Ireland has a good reputation for quality care.  However, wait times may be longer than what is common in the US.  This is particularly true during winter months, when
Clinics and hospitals may be busy with common winter ailments such as influenza.  Even if you are eligible for public healthcare, services are not completely free in Ireland.  There are various factors (income, age, disability status, etc.)  that determine what your costs will be.
Prescription Medications
The cost of prescription medications in Ireland is significantly less expensive than in the USA.   Prescription medications are available via pharmacies throughout Ireland.
Who is Eligible for Public Healthcare in Ireland?
All persons resident in Ireland are entitled to receive health care through the public health care system, which is managed by the Health Service Executive and funded by general taxation and subsidized fees for service. All maternity services and child care up to the age of six years are provided free of charge. Emergency care is provided at a cost of €100 for a visit to an Emergency Department (ED) if one has not attended a GP first.
The Medical Card – which entitles holders to free hospital care, GP visits, dental services, optical services, aural services, prescription drugs, and medical appliances – is available to those receiving welfare payments, low earners, many retirees, and in certain other cases. The only medical conditions carrying automatic entitlement to a card are having thalidomide syndrome and children with cancer.  Many political parties support extending the availability of the Medical Card to eventually cover every resident in Ireland – they currently cover 31.9% of the population. Those on slightly higher incomes are eligible for a 'GP Visit Card' which entitles the holder to free general practitioner visits. Persons over 70 years who are not entitled to a medical GP visit card can instead receive an annual cash grant of €400 up to a certain income.
People who are not entitled to a Medical Card (i.e. 68.1% of the population) must pay fees for certain healthcare services.
Private healthcare insurance in Ireland
The majority of Irish citizens, and the vast majority of expats, have private healthcare insurance.  Benefits of private health insurance include reduced wait times, availability of private and semi-private accommodations stays in a hospital which are overnight, specialized medical diagnostics and tests, etc.