International Moving from USA to Ireland
SDC International Shipping is an international moving company to Ireland. Over the years we have moved thousands of clients to locations across Ireland and Europe. We are specialists in the relocation and shipment of household goods, personal effects, and automobiles.
---
What's on this page?
01 | International Household Moving to Ireland
02 | International Car Shipping to Ireland
03 | Irish Customs and Regulations
04 | Moving to Ireland Checklist
05 | International Shipping Options
---
International Household Moving to Ireland
Ireland is one of the most popular European destinations for Americans being sent to Europe to work there. The European headquarters of many American companies are in Ireland, including almost all major high tech companies and many pharmaceutical, financial and hospitality companies.
There are many reasons why the country is attractive to US based companies – it has the best corporate tax rates in Europe. It has good access both to locations in the US and Europe. Although Gaeilge is the official language and is written on all signs, English is universally understood and the primary language.
For decades, SDC International Shipping has been involved with the relocation of families to Ireland. Not only those going to work, though specifically to Ireland it the largest portion of our business, but also returning Irish citizens and some Americans retire there. As Irish citizenship can be granted to anyone whose Irish grandparents, many can even do this without needing special permission, though they will have to prove your right to citizenship first.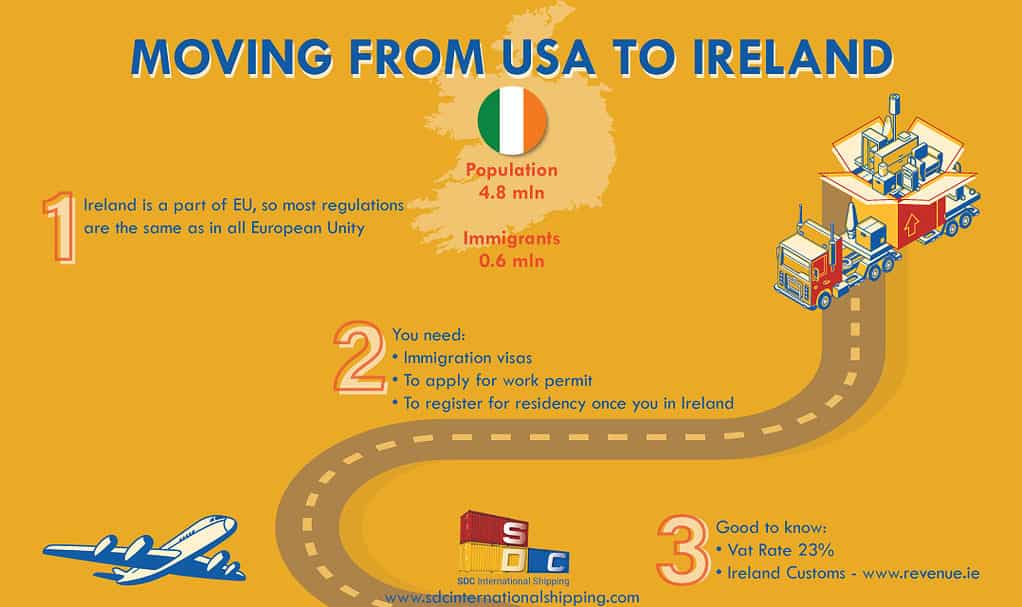 SDC International Shipping knows how to move your household to your new home in Ireland intact. It is one of our most popular destinations. We send many of our own shipments all over Europe and especially the UK with rapid delivery to all destinations in Ireland, including most islands.
When considering your international household moving to Ireland, one of the first things you need to consider is what to take and what you will be leaving in the United States. In general, most Irish dwellings will be slightly smaller than the typical American house, and two family homes are common, and row houses in urban areas. If you already have a home selected, measure your furniture and make sure that they will fit. If you haven't yet found the exact location of your new home, we suggest taking your most important items with you.
Beds and mattresses made in the United States are considered to be of superior quality, and you will want to bring yours with you, but watch out for terminology. What is called a "king" size in Ireland is equivalent to the size of "queen" in the US. Beds that are called "king" in the United States will not fit into every Irish bedroom. If you don't know for sure that you are moving to a dwelling big enough for them, do not bring beds larger than US "queen" size. Remember that the beds are of slightly different dimensions, send along a few extra sheet sets in your shipment.
American major appliances like washing machines and dryers won't work in Ireland. They should be left in the United States. A laundry machine might be the one exception if you are moving with a family, but you will need to get a special one that will work in Ireland. But just like with the beds, triple check your space. In smaller Irish dwellings laundry machines are commonly kitchen appliances. If you are moving somewhere outside of a big city, you will probably be OK.
Your small electronics can come with you, 110/220 v electricity capabilities are common in electronics and Ireland does not limit these. Keep in mind that Ireland has a unique shaped wall plug, used only in the UK, Ireland and Malta. You can easily get adapters or cords that plug right into AC adapters from sites like Amazon or Aliexpress. Computers and their monitors, gaming consoles, phones and most cell phones will all work with simple adapters. Your SDC International Shipping relocation specialist will be able to help you check which devices will work.
---
International Car Shipping to Ireland
Cars can be shipped to Ireland when you relocate, and in general import duties are not charged but other taxes might apply. Critically, any motor vehicle will have to meet EU standards. Unlike most countries that drive on the left hand side of the road, Ireland does not specifically prohibit the import of cars that are built to drive on the right hand side of the road. Your car will have to meet Irish and EU environmental and safety regulations
Your car must be registered to you for at least six months. The car should be between half a year and 6 years old. Vehicles newer than this are subject to an array of taxes. See this site for details about the costs and your eligibility to enjoy a tax holiday for your car. You need to prove that you have not been living in Ireland or any other EU countries for the past 12 months.
Read more: International Vehicle Shipping
Otherwise you will be subject to the taxes outlined above. The vehicle's title and registration should show the name of the person importing the vehicle on it. Before we pick up your vehicle, you will need to send us the aforementioned documents. This will hold true for motorcycles as well. If you own a motorcycle, you will probably want to bring it with you to Ireland.
Please note that you are allowed to send your car in your shipping container if you decide to send a private full container load. In such instances, the car is the last thing placed in the container, so that it can be removed for inspection at the port.
---
Irish Customs and Regulations
Ireland is a member of the European Union and because of this, most of its customs and policies are subject to the European Customs Union common regulations. This website provides current official policies of the Irish Tax and Customs authority.
Usually there are not problems importing used goods to Ireland. You should only be shipping things that belong to you and your family. If your container includes new goods imported with your shipment, they will be taxed at the standard 23% VAT rate. Do not send alcohol in your shipment. Also if you are sending things that are construed to be of a commercial nature, they may likely be charged VAT.
A thorough shipping list of your container contents must be prepared, and it should be as accurate as possible. When you hire the services of SDC International Shipping for packing or loading, we will make this list for you. If you decide to pack by yourself, make sure to make a detailed list. This list will later be appended to the Irish customs registration form. BTW, the same list is used for your insurance. You won't be able to purchase damage insurance when you pack by yourself.
Be very careful when sending any "new" wood, like that used in pallets, crating, etc. (as opposed to wood furniture), these will need to be declared before shipment. They will also need to conform to Irish and EU safety and health regulations. SDC International Shipping uses only packaging materials that are suitable for international shipping. If you buy your own pallets, make sure to buy new, plastic ones. Otherwise we usually have to disassemble them and this causes more handling charge, let us take care of it to begin with.
---
Moving to Ireland Checklist
Are you ready to move to Ireland? Let's double check that you have prepared everything you need for the move:
Contract SDC International Shipping early. We look forward to serving you, and will be able to serve you best with prior notice.
Immigration visas or proof of citizenship. Please review the frequently updated official information from Ireland government.
Your family's personal documents including birth certificates, passport, and marriage or divorce certificates, and driver's licenses. Make copies to bring.
If you have any sort of medical condition, it is essential for you to get a summary of your condition and relevant history from your doctor or specialist. Take along several months' worth of medications. In Ireland, the drugs will have different names and dosages.
Make sure to bring full immunization records with you – you probably won't be able to register children for school without these.
You are more than likely already moving with a job in hand, if not make sure that you have copies of all your professional qualifications and academic degrees.
Read more: The Ultimate International Relocation Checklist
---
International Shipping Options
There are several international shipping options available to you from SDC International Shipping.
Your personal relocation specialist will work with you to find the best fit for your schedule and budget.
These include private full container loads of 20', suitable for the contents of a 3 bedroom house and 40' containers for larger loads or shipments including automobiles.
If you are sending a small shipment, these can be sent as less than full container loads, starting at 100 cubic foot cargo, for door to door service. We have a few options for this, including our groupage consolidation shipments which take slightly longer, but are far more affordable.