International Movers – San Francisco (2023)
Introduction
San Francisco, known for its vibrant city life and thriving tech industry, has seen a notable trend in people moving away in 2023. In this blog post, we delve into the reasons behind these relocations and explore the most popular domestic and international destinations for former San Franciscans. From the high cost of living to the allure of remote work opportunities, we'll uncover the factors driving this exodus. Additionally, we'll highlight the reputable international moving company, SDC International Shipping, as a reliable choice for those embarking on an international move. Join us as we uncover the motivations and destinations behind the relocations from San Francisco.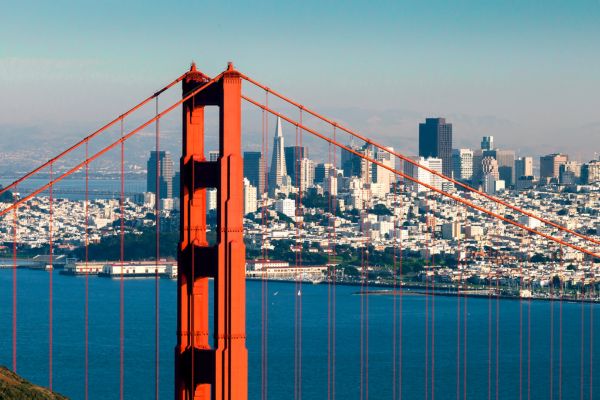 Reasons for People Leaving San Francisco:
Cost of living:
Living in San Francisco has become increasingly expensive, particularly in terms of housing prices and rent. Many individuals and families are finding it challenging to afford the high cost of living, prompting them to seek more affordable options elsewhere.
Remote work opportunities:
The COVID-19 pandemic has revolutionized the way we work, pushing many companies to adopt remote work policies. This shift has allowed individuals to reconsider their living arrangements and explore areas with a lower cost of living while still maintaining their careers.
Quality of life:
Seeking a change of pace and a quieter environment is another reason why people are leaving San Francisco. Some individuals long for more affordable housing options, proximity to nature, and a different cultural setting that can offer a better quality of life.
Traffic and congestion:
Navigating through the notorious traffic and congestion in San Francisco can be a daily struggle. The desire for a smoother commute and more efficient transportation options has led many to look for areas with better traffic conditions.
Changing priorities:
Personal circumstances and shifting priorities play a significant role in people's decision to leave San Francisco. Some individuals prioritize being closer to family or pursue new career prospects in different cities or even abroad. Exploring new experiences and opportunities beyond the city's borders is a common motivation for relocation.
As we look into these reasons, it becomes clear why individuals are seeking alternatives and are embarking on new journeys in various locations.
Popular U.S. Destinations for People Leaving San Francisco
A. Domestic destinations:
1. Alameda County (Oakland), California:
Many individuals or families who leave San Francisco choose to stay within the Bay Area and relocate to neighboring Alameda County. Oakland, in particular, offers a vibrant cultural scene, lower housing costs compared to San Francisco, and proximity to the Silicon Valley tech hub.
2. Los Angeles, San Diego, and Sacramento, California:
Other desirable domestic destinations within California include Los Angeles, San Diego, and Sacramento. These cities offer a range of opportunities, from entertainment and cultural diversity in Los Angeles to a laid-back lifestyle and beautiful beaches in San Diego, and a more affordable cost of living with ample job prospects in Sacramento.
3. Seattle, Washington:
Seattle, specifically King County, Washington, is a popular out-of-state relocation destination for people leaving the Bay Area. Known for its thriving tech industry, scenic beauty, and progressive culture, Seattle offers a vibrant urban experience with a lower cost of living compared to San Francisco.
4. Florida cities:
Several cities in Florida have seen an influx of population as people from San Francisco seek warmer climates, affordable housing, and a change of scenery. Sarasota, Orlando, Ocala, Jacksonville, and the Tampa Bay area have become attractive destinations for former San Franciscans.
B. International destinations:
1. Vancouver, Canada:
Vancouver is a commonly chosen international destination for those leaving San Francisco due to its proximity and similarities in lifestyle and culture. This coastal city offers a moderate climate, breathtaking natural beauty, and a thriving job market.
2. London, United Kingdom:
For individuals seeking new career opportunities, cultural experiences, and a bustling city atmosphere, London has been a popular choice. The vibrant UK capital attracts people from around the world, including some former San Franciscans, looking to immerse themselves in a diverse and dynamic urban environment.
3. Berlin, Germany:
Berlin has emerged as a hotspot for the tech industry, capturing the interest of individuals leaving San Francisco in search of a vibrant tech scene, a creative culture, and a lower cost of living. The city's progressive atmosphere and rich history also hold immense appeal.
4. Sydney, Australia:
Sydney offers a desirable climate, a multicultural environment, and abundant opportunities across various industries. Former San Franciscans seeking a change of scenery and a relaxed yet cosmopolitan lifestyle are drawn to Sydney's stunning beaches, thriving arts scene, and welcoming community.
5. Tokyo, Japan:
Tokyo entices former San Franciscans with its bustling metropolis, cutting-edge technology, and unique cultural experiences. The city's blend of tradition and modernity, along with tremendous career prospects and a vibrant urban lifestyle, make it an appealing destination for international adventure.
These popular domestic and international destinations provide diverse options for individuals leaving San Francisco, catering to different interests, career paths, and lifestyle preferences. The allure of these destinations lies in their unique attributes and opportunities for a fresh start beyond the boundaries of the Bay Area.
SDC International Shipping: A Reliable Choice for International Moves
At SDC International Shipping, we understand that choosing a reliable moving company for your international move is of utmost importance. Allow us to share why we believe we are the ideal choice for your relocation from San Francisco.
1. Expertise and experience in international moving:
With our extensive expertise and years of experience, we have successfully facilitated countless international relocations. We are well-versed in the complexities and challenges involved in moving belongings across borders, ensuring a seamless and efficient process for our clients.
2. Customized moving solutions tailored to your needs:
We recognize that no two international moves are the same. That's why we take the time to understand your specific requirements, timelines, and budget. Our team works closely with you to create a customized plan that meets your needs, ensuring a smooth and stress-free relocation experience.
3. Global network of trusted partners and agents:
Through our expansive network of trusted partners and agents worldwide, we are able to provide reliable door-to-door service. This means that your belongings will be handled with utmost care throughout the entire journey, from the origin in San Francisco to your destination abroad.
4. Comprehensive services to support your move:
Our comprehensive range of services covers every aspect of the international moving process. From professional packing and unpacking to assistance with customs clearance and insurance coverage, we have you covered. We also offer storage options and tracking systems to keep you informed about the progress of your shipment.
5. Excellent customer support every step of the way:
We understand the stress and uncertainty that can come with an international move. That's why we are committed to providing unparalleled customer support. Our dedicated team is available to address any concerns or questions you may have, ensuring that you have peace of mind throughout the entire moving process.
In choosing SDC International Shipping as your partner for your international move from San Francisco, you can trust that your belongings will be in capable hands. We are here to make your relocation as smooth and worry-free as possible, providing reliability, personalized solutions, and excellent customer service.
We look forward to the opportunity of serving you and helping you embark on a seamless and successful international move.